Paws-itive Update on Bastian
March 1, 2017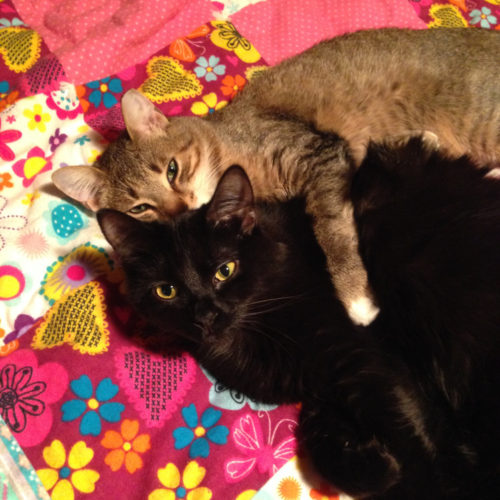 Bastian, formerly Big Boy, came to Community Cats of Benzie County in June. When we trapped him, he was the oldest in his colony. We tipped his ear because, at his age, we weren't sure we'd be able to socialize him enough to place him in a forever home.
We fell in love with Bastian quickly. He was sweet, cuddly and loved to purr. However, he was also very timid and shy, and people often overlooked him at adoption events because of this. But we think Bastian wanted a forever home just as much as we wanted one for him. We knew the perfect home would come along, and it did.
In August, after nearly two months with Community Cats of Benzie County, Bastian found his forever home with Shainna, her husband, two young boys and two cats. Within a few days, Shainna told us Bastian had came out of his shell and taken over his new home. Now, three months in, he continues to blossom. Shainna says he's doing well and getting to be quite the "big boy." He weighs more than eight pounds now and looks as though he'll get bigger than his feline sisters.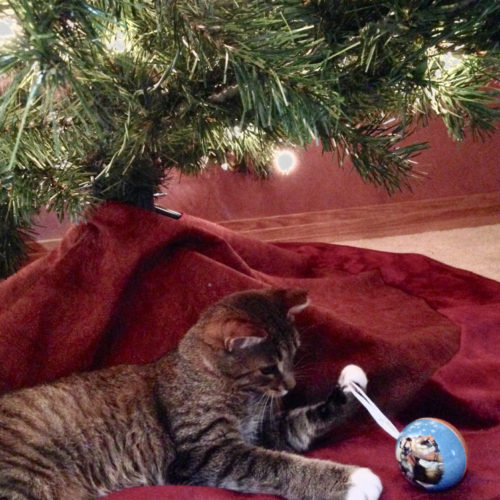 Bastian is also getting in the holiday spirit and loves the family's Christmas tree. Shainna says Bastian is quite sure they put the tree up just for him and thinks the skirt around the tree is his fancy new bed.
He also has a favorite toy in his new home — a Curious George stuffed animal that's nearly as big as he is. Shainna's son got the stuffed animal for his birthday, and Bastian is claiming it as his own. Shainna says Bastian drags Curious George around the house with him; his feline sisters find it very entertaining.
Shainna's family finds Bastian's latest discovery — opening the cabinet drawer that holds the garbage can — entertaining. Shainna says, "I kept waking up in the morning and discovering the cabinet was wide open. I kept scratching my head wondering if I had somehow left it open; it was driving me crazy! Then, one afternoon while prepping for dinner, I watched Bastian jump up and put his paws on the cabinet handle while slowing walking backward with his hind legs so that the cabinet opens. I was shocked. So essentially, Bastian learned how to open the garbage drawer! He doesn't try to do anything with it; he just opens the cabinet, peeks inside and walks away!"
We're so happy to see Bastian thriving in his new home — and are so glad he found such a good, loving family to call his own. Many thanks to Shainna and her family for being the perfect match for sweet, silly Bastian.