Edgar and Liberty
December 8, 2017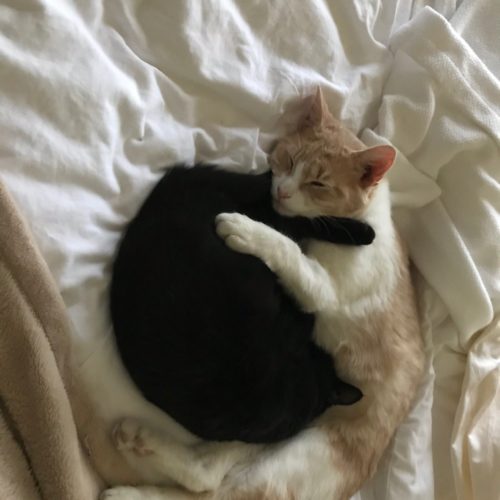 This picture of love and commitment was not a reality for Edgar and Liberty until Community Cats of Benzie County stepped into their lives earlier this year. Liberty was found on July 4th – a thin, flea- and ear mite-infested "teenager" – near US-31 outside of Honor. Edgar was part of a 30+ feral cat colony found near Arcadia later that same month. Edgar was timid, thin and had fleas and roundworms. As part of our TNVR (trap-neuter-vaccinate-return) program, we take friendly cats and kittens, like Edgar and Liberty, into foster care to help nurture them for loving forever homes.
It took several months to get Edgar and Liberty healthy and socialized for adoption. During that time, they bonded, and we're happy to share that both were placed into indoor homes earlier this November.
It can sometimes take months of care to assure health, and placement into a home that matches the personalities of our cats. This, of course, takes extra resources – but we never have and never will give up on a placeable cat.